Shot blasting machines for cylindrical inner-surface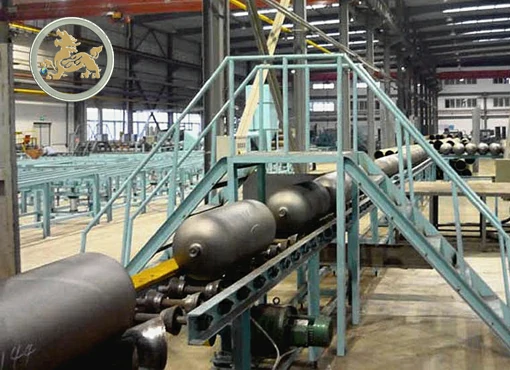 LPG Gas bottle cylinder internal-surface sand blasting machine, Gas cylinders bottle inner-surface sand blasting machine is designed for the internal surfaces of LPG cylinders, either new or refurbished products: gas bottles, boilers, fire extinguishers and cylindrical items in general, and other short or middle length hollow products of various dimensions.
    Our LPG cylinder bottle inner-surface Shot Blasting Machine can be integrated to a fully automatic process with the addition of loading and unloading equipment via electricity or hydraulic mechanism. The use of loaders is normally applied for heavier work, discharging into a pneumatic or hydraulic conveyor.    
Features of Sand Blasting Machine:
Automatic PLC control, save labor cost;
Perfect of finishing uniform of surface cleaning;
Continuously feed for pipes, tubes, cylinders, etc.
No pollution for the environmental protection;
Characteristics of gas cylinder inner-surface Sand Blasting Machine:
1. High efficient of Sand blasting system:
The shot blast pot ues mix the maximizes abrasive capacity with compressed air, allowing for longer refill intervals and substantially lower maintenance costs.

To save operating costs and space, the blast pot can be connected to up to 4 nozzles, thereby reducing investment costs.

The blast pot can be monitored in real time through the user HMI interface.

The use of dual-chamber pressure vessels and automatic valve control ensures continuous blasting and ensures the highest operating efficiency of any blast cleaning process.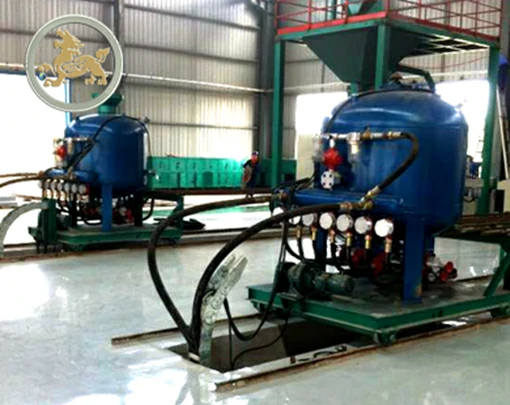 2. Cylinders support system: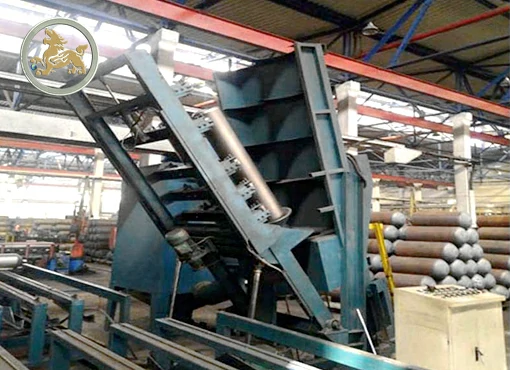 It can realize automatic cleaning working modes such as automatic bottle loading, conveying arrangement, pressing and positioning, turning 90°, spray gun extending into the bottle, automatic cylinder rotation, spray gun moving up and down to clean the steel cylinder, etc.;
The cylinder block is placed upright, the cylinder head mating surface is on the upper side, the masking part is installed on the cylinder head mating surface, and the blasting particles are blown from the spray gun in an obliquely downward direction, whereby the inner cylinder surface is sandblasted downward.
3. Skew conveying system:
The skew conveyors with manageress liners for longer lifespan;

Multiple screw rollers for big-diameter cylinders, one piece per time;

Bearing support with the labyrinth shape prevents leaking of the steel media;
Standard capacity is 1,000kgs per meter;
VFD (Variable Frequent Drive) for motor to adjust of the input & output feed speed;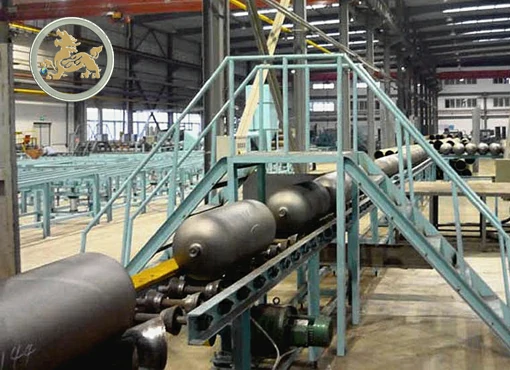 4. Abrasive Recycle & Purify system:
Abrasive collect and transport to elevator via screw conveyor;
The elevator lifts the abrasive to the separator;

Bucket made of foundry casting;
Tension device prevents belt slide;

Separator adopts DISA & Pangborn technology;

3-class of separating abrasive;
Efficient reach of 99.5%

Abrasive hopper for abrasive accumulate;
Electro-Magnetic valve control of abrasive flow;
5. Dust Collecting system:
Cartridge type of dust collector;
The efficient reach of 99.9%;
Very easy of replacing of cartridge filters;
Silencer to minimize of noise;
Maintenance platform;
6. Electrical Control system:
Safety interlock for operation;
IP65 protection for control cabinet;
Air conditioning;
230V/3ph/60Hz or 380V/3ph/50Hz cycle electrics;
PLC / HMI (touch screen control);
Abrasive level indicator;
Loader and/or Take away conveyor;
Sound insulation enclosures;
Automated fire fighting systems for dust collector;
Relate shot blasting machines
Feel free to contact us for more details