Shot blasting machine for sale
Plant innovation and modernization
    SA develops of manual, semi-automatic and automatic lines of surface treatment and metal finish in all industrial applications, including by shot blasting machine for sale: an innovative and sustain range of shot turbines featuring, a large range of sand blast nozzles, as well as critical automation and optimized controls for process consistency. The aim is not only achieving the optimum quality of treated surfaces, minimize consumption of energy and operating resources but also can increase the operational times of spare parts, while decreasing maintenance and repair costs. 
Spare parts: always in-stock, delivered quickly to the customer
    We have an extensive stock of replacement and spare parts for the shot blasting machine for sale that are ready to be shipped home and abroad to minimize downtime and maintain of consistent workload. Our field install engineers will be happy to help install and debug of spare parts, deal with any queries you might have. Service – Shot blasting machine.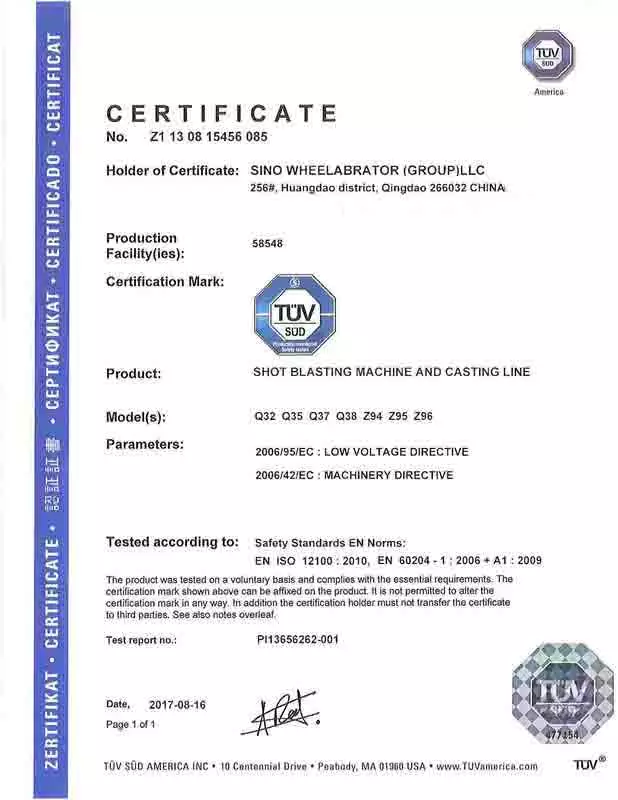 The right type of shot blasting machine will be chosen by our professional technician use the management software base on the treatment and correct functioning.
The machine is determined depending on the type of applications finish requested.
The sophisticated cleaning process, quantity and the stimulate PLC assessment, while handling will be ensured by automatic conveyor belts by automated tool or rolls loaded by manually, the speed of the conveyor or rolls, the engines amperage and the shot wheels quantity and projectile angle.
The inverter allows to adjustable of the loading speed and it defines the shot abrasive speed of thin element to prevent of deform.
All machines use a variable number of turbines to ensure a homogeneous process on the treated surfaces and ensure of the cleaning standard. Moreover, the shot blasting hot-area is composed directly of thickness reinforced casting protective liners with 12-14% manganese to ensure lifespan activity.
When the workpieces reach the entrance and exit of the shot blasting room, where install multiple rubber shutters will prevent abrasive and dust leak, the optoelectrical sensor will start or stop the shot wheels automatic to save energy.
Blowing cleaning and sweeping system is carried out through a high prevalence that removes the remaining abrasive media left.
Our technician will carry out of install, debug and training, cooperate with the client, evaluates the resulting finishes to adjust of the shot abrasive, process time and shot projectile angle, the consume of the spare parts.