Closed circuit portable movable shot blasting machine for road surface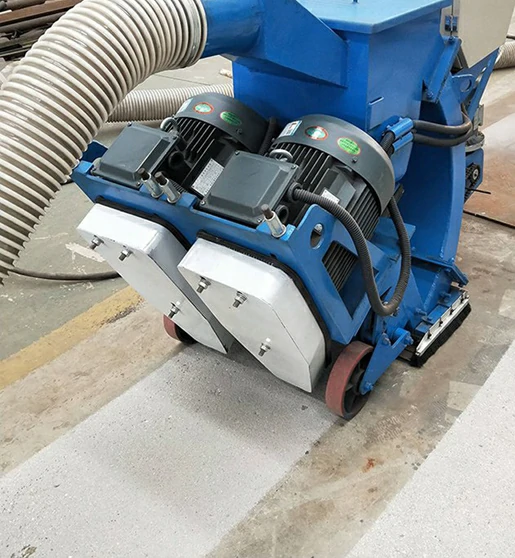 The Closed-circuit movable shot blasting machine for road floor is a new small, portable, and mobile shot blaster, mainly used to increase the roughness and friction coefficient of concrete floors, asphalt pavements etc.
During the operation of the portable road-surface shot blaster, by controlling and selecting the particle size and shape of the shot abrasive, and adjusting and setting the walking speed of the shot blasting machine, the shot flow rate is controlled to obtain different shot strengths and different surface treatment effects.
Movable Shot blasting machines can be divided into hand-push type, vehicle-mounted type and white line type according to the walking mode. With walking motor, it can walk independently, theoretically climb 30%, can forward and reverse functions, three-phase asynchronous, 380v/480v, 50Hz/60Hz.
Features of Shot Blasting Machine:
Compact design structure, no foundation required, low noise;
Movable and portable shot blaster;
Perfect finishing consistency of plate surface cleaning
No pollution for environmental protection;
Applications of Shot Blasting Machine:
Characteristics of Portable Shot Blasting Machine:
1. High efficient of Shot wheel Turbines
Compact shell structure, longer lifespan of blades, lower maintenance;
Upgraded wearing-resistance with low working noise & vibration;
High-speed blasting capacity with more recycle abrasive using;
Optimal blasting angle, velocity and energy-saving;
Top side installed, optimized shot blast angle and effect;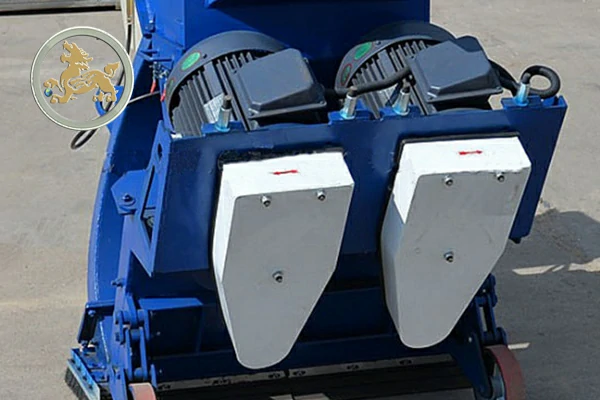 2. Road-surface Shot Blasting applications: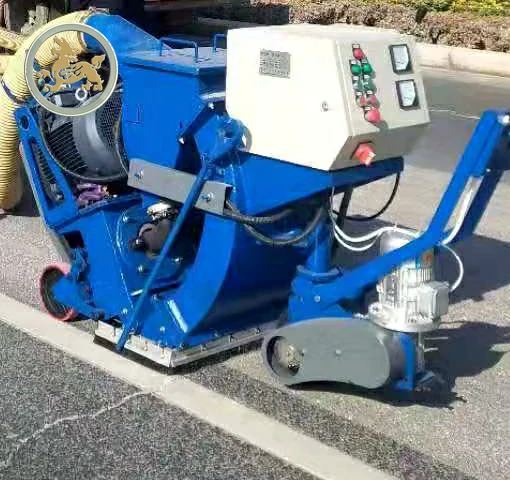 Surface treatment of concrete bridge deck;
Maintenance of the road tunnel;
Maintenance of asphalt pavement;
Municipal roads and paved roads;
Preventive maintenance of airport runways;
  The Closed circuit shot blasting machine for floor process can clean up and remove the floating slurry and impurities on the concrete surface at one time. The most important thing is that the concrete surface is roughened at the same time to make the surface uniform and rough, which greatly improves the bonding strength of the waterproof layer and the concrete base layer. And in this process, the shot blasting process can fully expose the concrete cracks and other diseases, so that remedial measures can be taken in advance.
Technical of Close-circuit shot blasting machine:
| Items | SA-270 | SA-550D | SA-850D |
| --- | --- | --- | --- |
| | | | |
| | | | |
| | | | |
| | | | |
| | | | |
| | | | |
| | | | |
4. Dust Collecting system:
Cartridge type of dust collector;
The efficient reach of 99.9%;
Very easy of replacing of cartridge filters;
Silencer to minimize of noise;
Maintenance platform;
5. Electrical Control system:
Safety interlock for operation;
IP65 protection for control cabinet;
Air conditioning;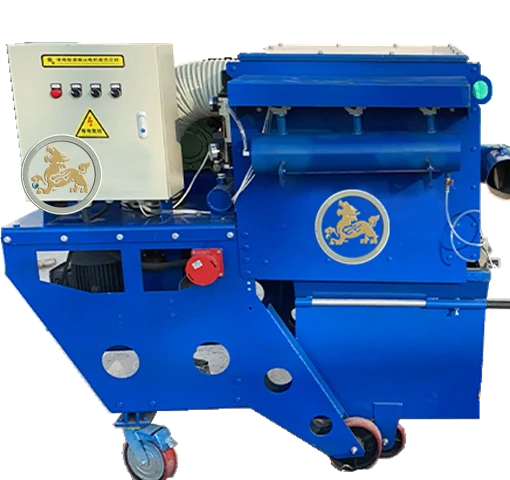 230V/3ph/60Hz or 380V/3ph/50Hz cycle electrics
PLC / HMI (touch screen control)
Abrasive level indicator
Feel free to contact us for more details