Shot Blasting Machines with Conveyor Belt made by Steel-Belt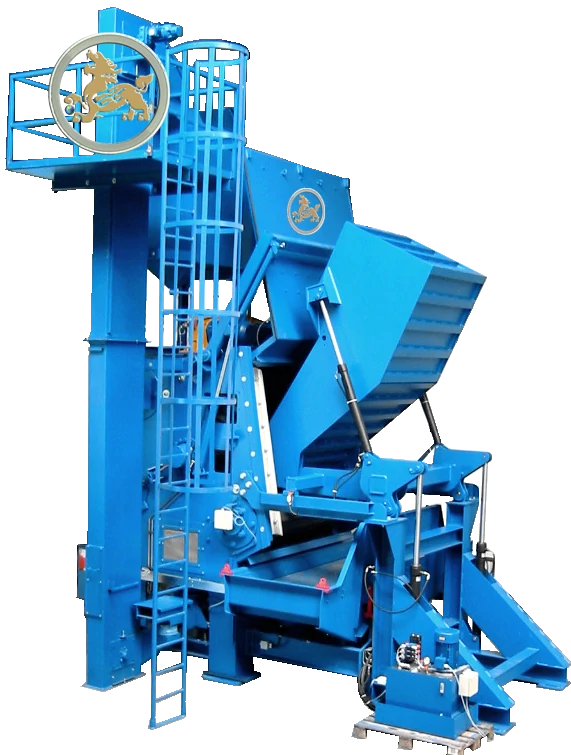 Rubber-belt Tumblast shot blasting machine / Tumble belt shot blasting machine with rotate conveyor belts by rubber & steel are designed to allow high production levels, at priority is low costs, a tumbler of medium and large-sized items, in intermittent, loaded by manual or automatically by the skip loader.
Steel-belt tumble belt shot blasting machine type ST, comprising segments made from special abrasion-resistant casting #14 manganese reinforced steel belts are mostly tumbler to process ferrous and non-ferrous castings, forgings, welding, and heat-treated parts. The loading capacity is 50 kgs of single piece, maximum total 1000kgs (volume 25L) per time;
The tumbler shot blasting machine with skip loader, can be integrated to a fully automatic process with the addition of loading and unloading equipment via electricity or hydraulic tipping bucket. The use of skip loaders is normally applied for heavier work, discharging into a vibratory conveyor.
The shot blasting machine's housing is protected by wear-resistant manganese-steel protective liners.
Features of Shot Blasting Machine:
Batch cleaning and save labor cost;
Compact design structure, no foundation required, low noise;
Perfect of finishing consistency of surface cleaning;
Specific suits for the solid parts which not afraid collision during blasting;
No pollution for the environmental protection;
Applications of Shot Blasting Machine:
Main type of tumble Type Shot Blasting Machine: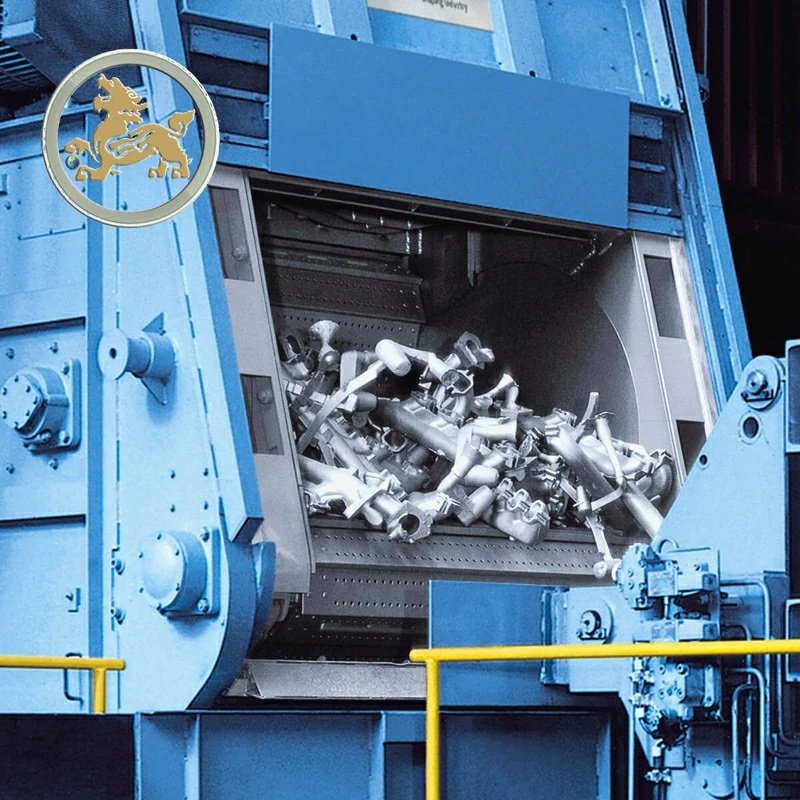 Steel-belt Tumble shot blasting machine
Characteristics of Rotary tumble Shot Blasting Machine:
1. High efficient of Shot wheel Turbines
Compact shell structure, longer lifespan of blades, lower maintenance;
Upgraded wearing-resistance with low working noise & vibration;
High-speed blasting capacity with more recycle abrasive using;
Optimal blasting angle, velocity and energy-saving;
Top side installed, optimized shot blast angle and effect ;
VFD (Variable Frequent Drive) for motor to adjust of the shot projectile capacity;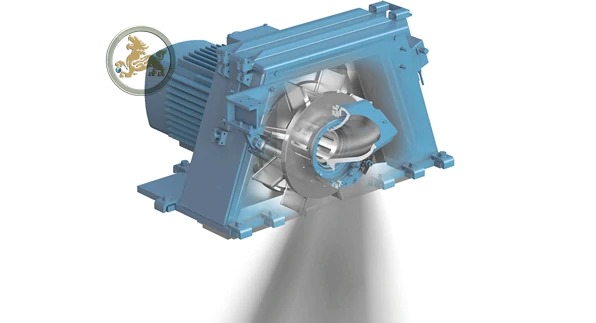 2. Shot Blasting Chamber: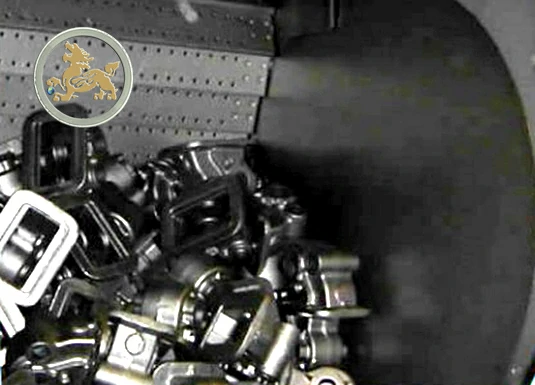 Shot blasting room design with CAD (Computer-Aided Design) reach of best blasting angle and distance;
Blasting room made of strong profiles and 10mm plates;
The direct-blasting disc use of upgraded wearing-resistance Chrome and Manganese casting steel with 35-45 HRC;
The double doors open and closes manually, pneumatic or electricity, with tight sealing;
Fully safety interlocks;
Labyrinth structure to stop the abrasive leak;
3. Rotary tumblast system:
The continuous rubber belt or steel apron, very easy of loading and operation;

Steel apron belt is made of ZGMn13 long lifespan, design for the heavy-duty;

The workpieces range from smaller size to medium-large size;
VFD (Variable Frequent Drive) for the turntable motor to adjust the rotary speed to achieve of best cleaning;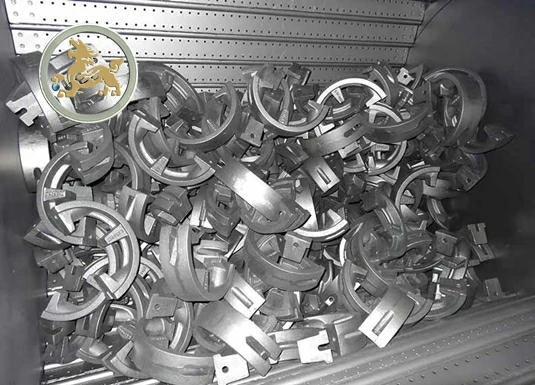 4. Loading bucket & unloading conveyor: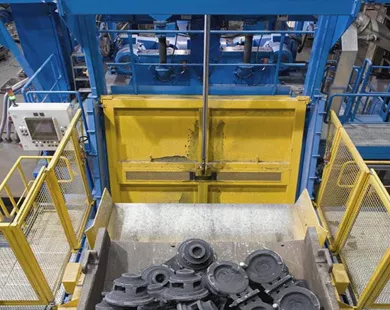 The automatic interlock PLC control with shot blasting process;
The loading bucket is lifted by electricity (light duty) or hydraulic station (heavy duty);
The vibrating conveyor to carry the blasted parts for unloading collection;
Manual, mechanic or automatic loading integration continuous belt conveyor aligned with production for loading chamber of batching cleaning;
Technical of Tumble belt shot blasting machine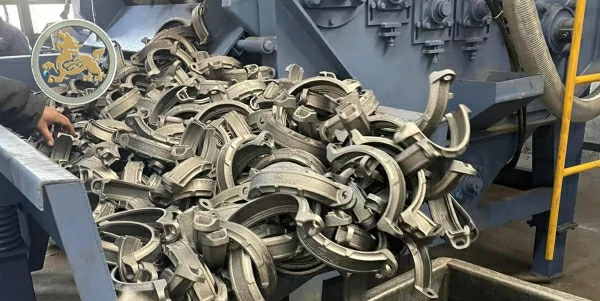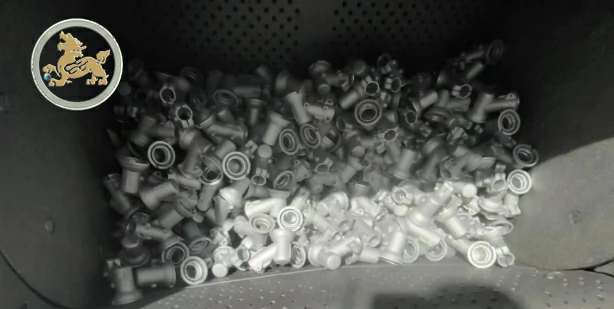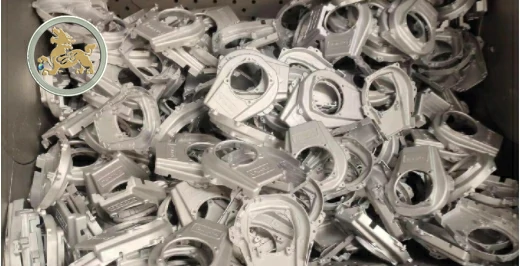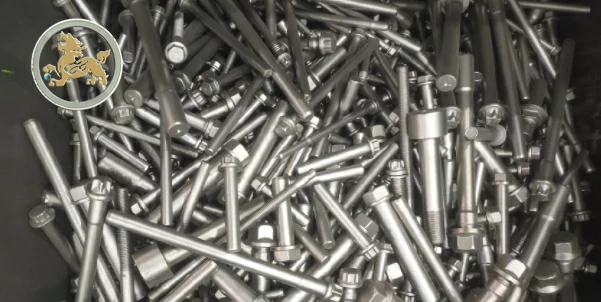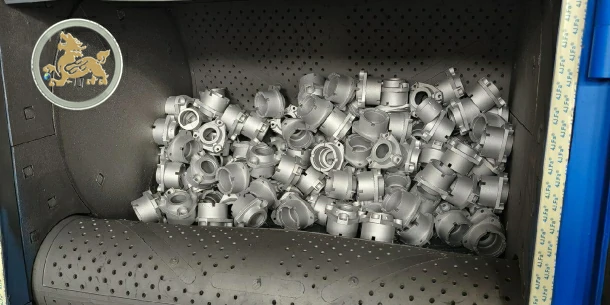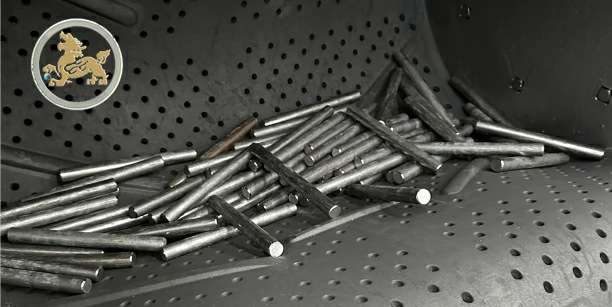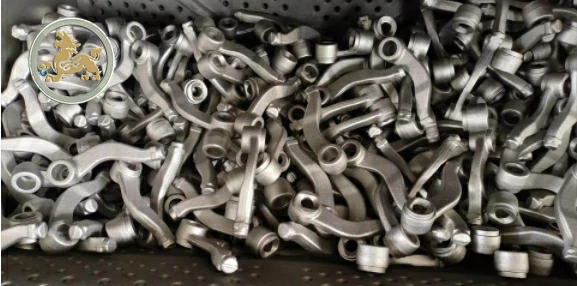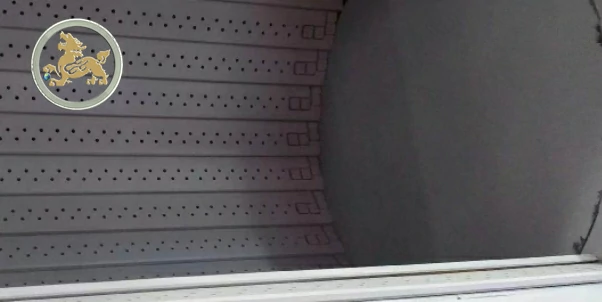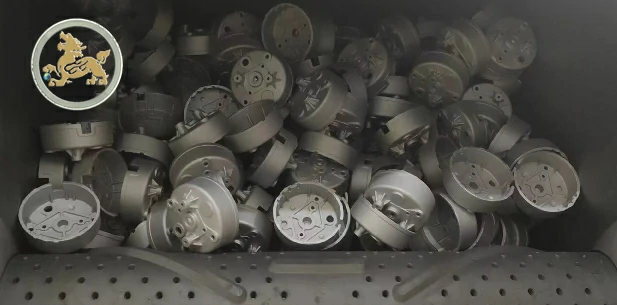 4. Abrasive Recycle & Purify system:
Abrasive collect and transport to elevator via screw conveyor;
The elevator lifts the abrasive to the separator;

Bucket made of foundry casting;
Tension device prevents belt slide;

Separator adopts DISA & Pangborn technology;

3-class of separating abrasive;
Efficient reach of 99.5%

Abrasive hopper for abrasive accumulate;
Electro-Magnetic valve control of abrasive flow;
5. Dust Collecting system:
Cartridge type of dust collector;
The efficient reach of 99.9%;
Very easy of replacing of cartridge filters;
Silencer to minimize of noise;
Maintenance platform;
6. Electrical Control system:
Safety interlock for operation;
IP65 protection for control cabinet;
Air conditioning;
230V/3ph/60Hz or 380V/3ph/50Hz cycle electrics
PLC / HMI (touch screen control)
Abrasive level indicator
Automatic Replenisher
Loader and/or Take away conveyor
Pneumatic unload flip gates
Relate wheelabrator shot blasting machines
Feel free to contact us for more details