Manual sand-blasting room for versatile products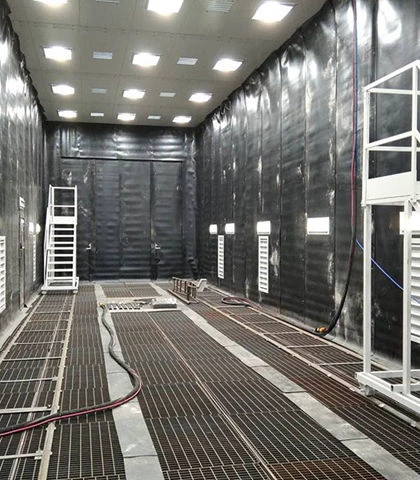 Manual Sand blasting room systems are designed for manual or automatic compressed-air projectile toward workpieces via blasting nozzles by shot abrasive. Customized-made blasting room by specific size and material requirements, designed for blasting work-pieces of large dimensions, weights, and complex geometries shape such as welded engineering pieces, foundry castings, forgings, railway wagons, die-casting, containers, etc.; With multi-functional of cleaning prior for the coating or paint line.
    Sand blasting room systems are constructed from modular steel panels or self-supporting panels featuring polyurethane resin insulation. Walls are lined with special abrasion-resistant reinforced rubber. The floor is made from metal grating system of screw conveyors or scraping conveyors applied to the whole shot blasting chamber for automatic shot-abrasive recovery system installed underneath.
    The Sand blasting systems are finished off with pedestrian access doors, transporting system by track or hanger system, lighting system, platforms with fixed or moving walls for sand-blasting parts higher up, an extraction and ventilation system, self-cleaning dry-type cartridge filter, and manual or automatic sandblaster.
    The sand blasting room is universal use of any kind of shape, especially of the un-standard shape and large size, such as the railway wagon etc.
Relate shot blasting machine
Feel free to contact us for more details