Overhead Monorail / Continuous carousel hanger shot blasting machine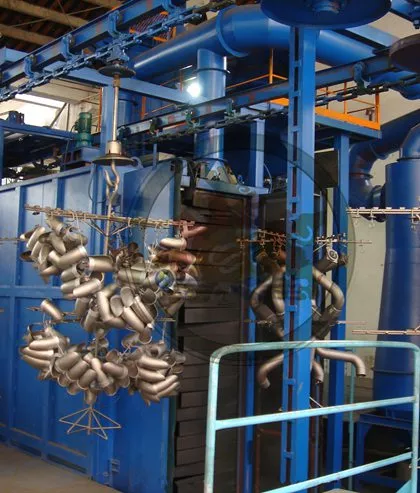 Carousel monorail Hook & Hanger type shot blasting machine suspended, designed to treat workpieces suspended on a self-rotating-hook. Monorail Hooks are distributed at a constant overhead endless-loop monorail system.
    The carousel monorail overhead Hanger shot blasting machine suspended is among the most flexible types. The purpose is used to remove rust, scale, sand, and burrs from many kinds of work-pieces. Hanger-type blast machines are also used for the finish blasting of sensitive workpieces or to roughen work-piece surfaces for subsequent coating with the work-pieces that cannot be tumbling.
    Loading and unloading of workpieces are carried out during the carousel monorail hook shot blast machine processing phase.
    The movement of the multi-hooks through the blasting machine takes place via a motorized overhead transporter, which can advance at intervals (pneumatic doors) or continuously (multi-rubber containment curtains).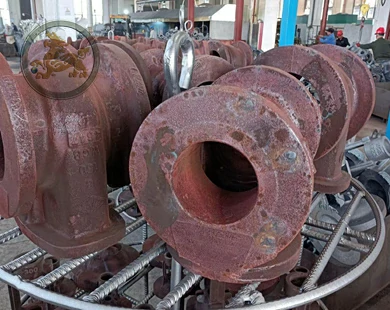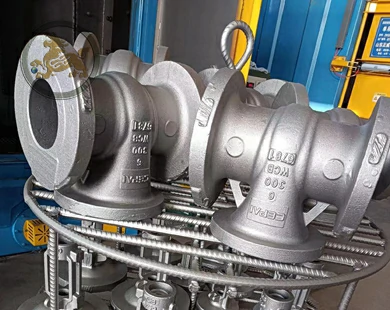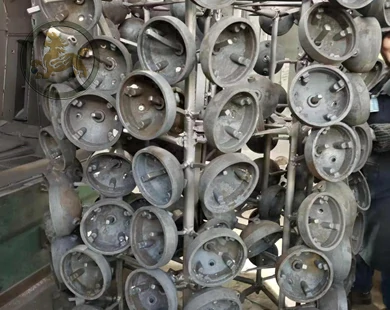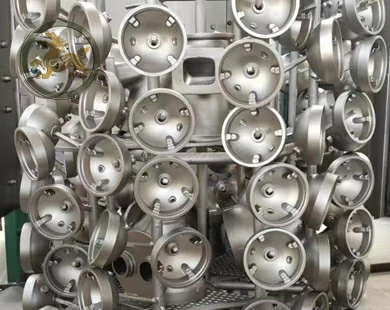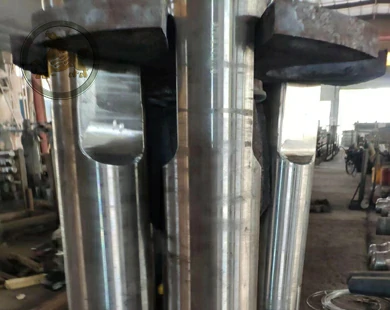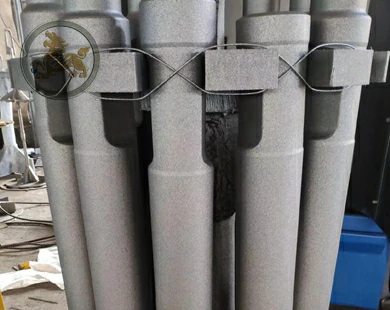 Features of Shot Blasting Machine:
A versatile material, size and weight cleaning with high efficiency; Especially for the sand casting and foundry etc., (pumps, pulleys, discs, pulleys, valves, components for machines, street furniture, oil & gas sector, etc.)
Perfect of finishing consistency of surface cleaning;
Robost wheel turbines made by high-chrome wearing-resistant material with multi-grade projectile capacity;
Compact structure, simple operation and easy access of installation, low-cost of maintenance, highly reputation;
No foundation base required;
No pollution for the environmental protection;
Applications of Shot Blasting Machine:
Characteristics of Carousel Monorail Hook Shot Blasting Machine:
1. High efficient of Shot wheel Turbines
Compact shell structure, longer lifespan of blades, lower maintenance;
Upgraded wearing-resistance with low working noise & vibration;
High-speed blasting capacity with more recycle abrasive using;
Optimal blasting angle, velocity and energy-saving;
"X" across alignment of shot wheel turbines;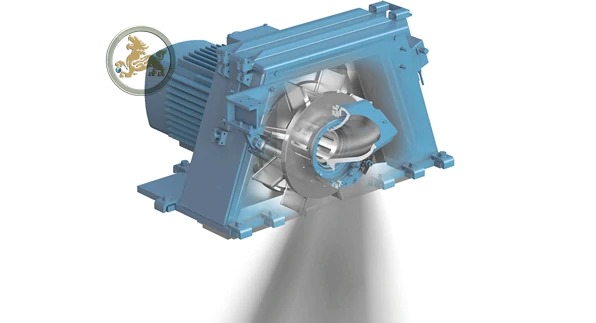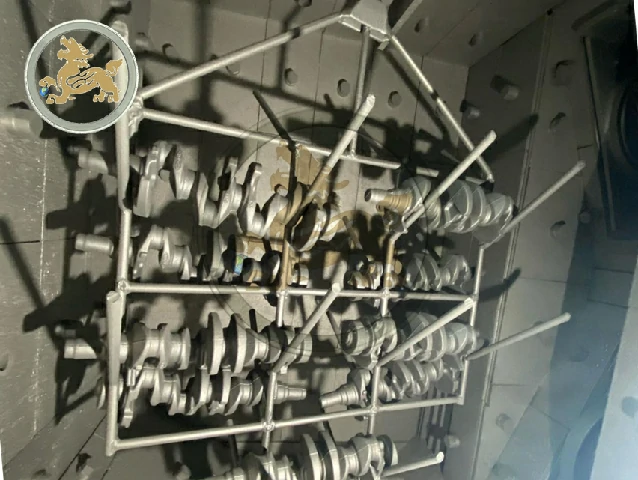 Shot blasting room design with CAD (Computer Aided Design) reach of best blasting angle and distance;
Blasting room made of strong profiles and 10mm plates;
The direct-blasting hot area use of upgraded wearing-resistance casting steel;
Else area with 65 manganess-steel for extra protection;
The door and hooks pass use rubber bands for sealing;
The main doors can automatical open / close pneumatically;
3. Carousel continuous Hangers system:
The continuous overhead conveyor with hooks;
Constant suspended chain speed by variable controll;
Integrated with exit paiting or coating line;
The monorail chain conveyor's speed accords of the surface standard and pre- or post- of line exit;
Specially use for the small, medium size and complicate shape;
The hooks self-rotate 360 degree inside;
The lifting capacity can reach of 10,000kgs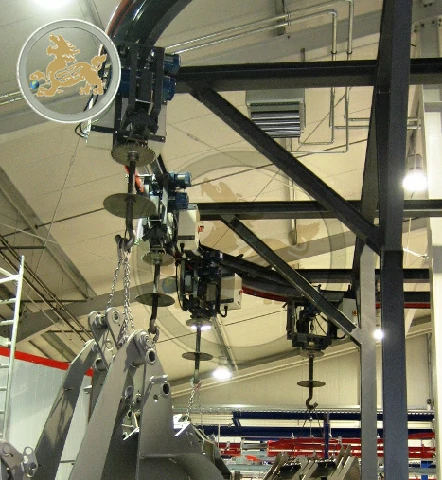 Technical of Carousel hanger shot blasting machine
| Model | CSH-1270 | CSH-1610 | CSH-1812 |
| --- | --- | --- | --- |
| | | | |
| | | | |
| | | | |
4. Abrasive Recycle & Purify system:
Abrasive collect and transport to elevator via screw conveyor;
The elevator lifts the abrasive to the separator;

Bucket made of foundry casting;
Tension device prevents belt slide;

Separator adopts DISA & Pangborn technology;

3-class of separating abrasive;
Efficient reach of 99.5%

Abrasive hopper for abrasive accumulate;
Electro-Magnetic valve control of abrasive flow;
5. Dust Collecting system:
Cartridge type of dust collector;
The efficient reach of 99.9%;
Very easy of replacing of cartridge filters;
Silencer to minimize of noise;
Maintenance platform;
6. Electrical Control system:
Safety interlock for operation;
IP65 protection for control cabinet;
Air conditioning;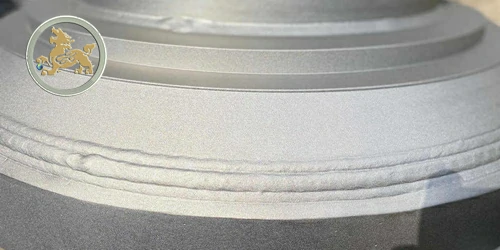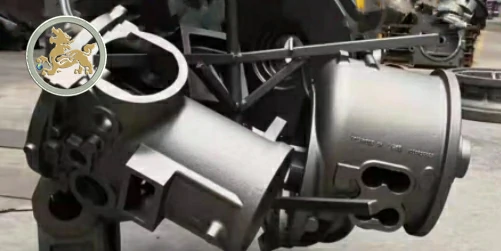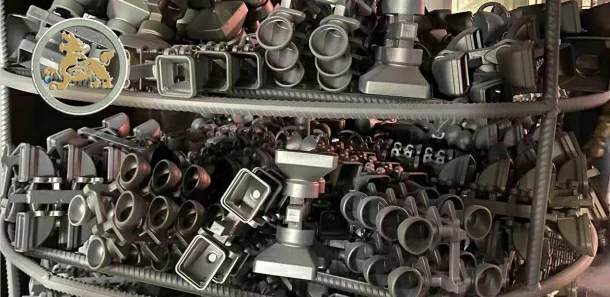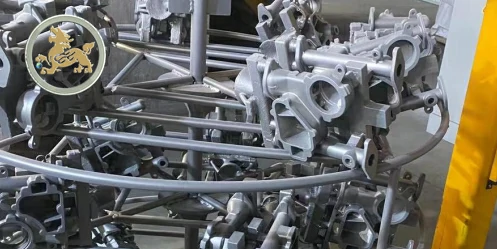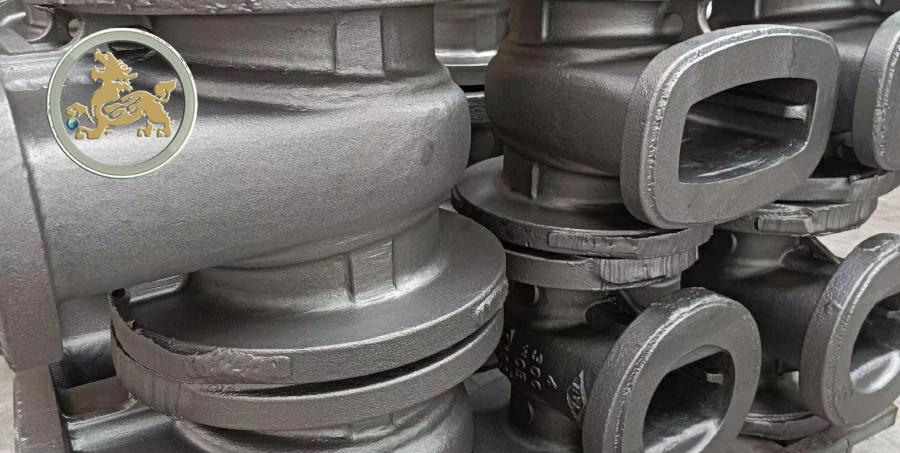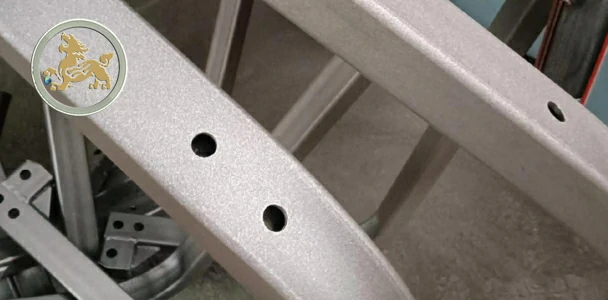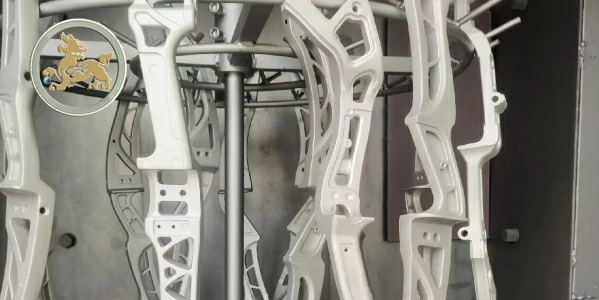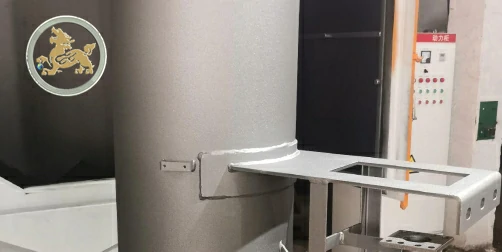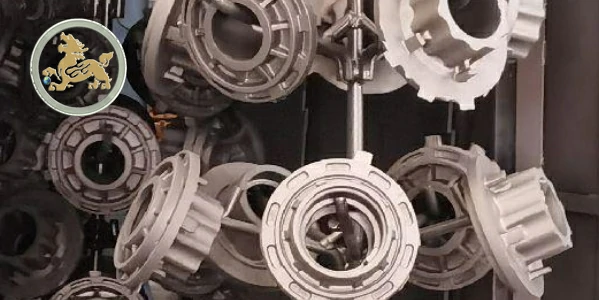 230V/3ph/60Hz or 380V/3ph/50Hz cycle electrics
PLC / HMI (touch screen control)
Abrasive level indicator
Automatic Replenisher
Loader and/or Take away conveyor
Pneumatic unload flip gates
Relate shot blasting machines:
Feel free to contact us for more details