Overhead Monorail / Continuous carousel hanger shot blasting machines
    Carousel monorail Hook-type shot blast machine suspended, designed to treat workpieces suspended on a self-rotating-hook. Hooks are distributed at a constant overhead endless-loop monorail system.
    The carousel monorail Hanger-type shot blast machine suspended is among the most flexible types. The purpose is used to remove rust, scale, sand, and burrs from many kinds of work-pieces. Hanger-type blast machines are also used for the finish blasting of sensitive workpieces or to roughen work-piece surfaces for subsequent coating with the work-pieces that cannot be tumbling.
    Loading and unloading of workpieces are carried out during the shot blast machine processing phase.
    The movement of the multi-hooks through the blasting machine takes place via a motorized overhead transporter, which can advance at intervals (pneumatic doors) or continuously (multi-rubber containment curtains).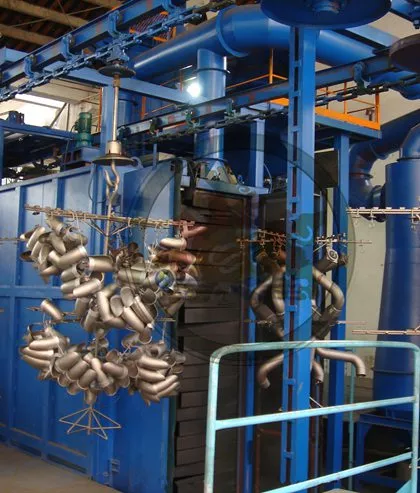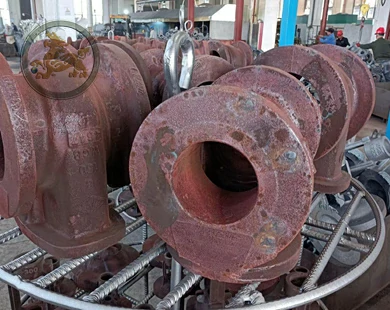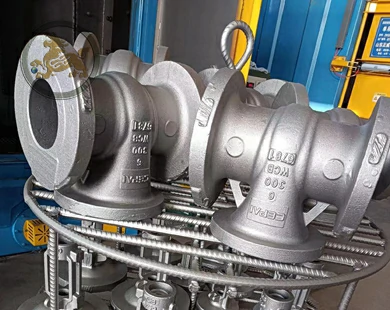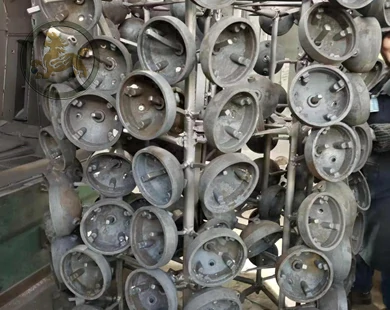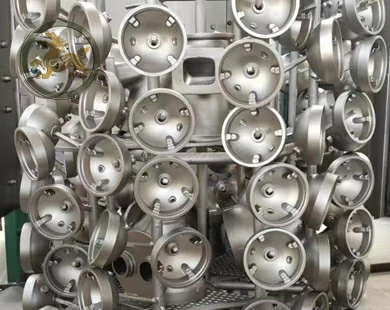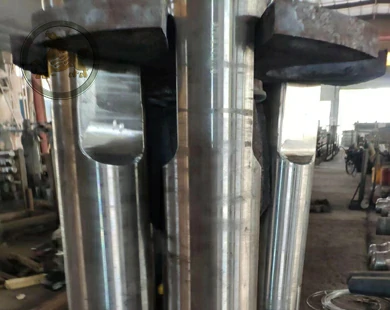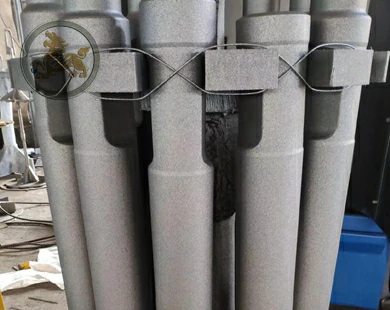 Features of Shot Blasting Machine:
A versatile material, size and weight cleaning with high efficiency; Especially for the sand casting and foundry etc., (pumps, pulleys, discs, pulleys, valves, components for machines, street furniture, oil & gas sector, etc.)
Perfect of finishing consistency of surface cleaning;
Robost wheel turbines made by high-chrome wearing-resistant material with multi-grade projectile capacity;
Compact structure, simple operation and easy access of installation, low-cost of maintenance, highly reputation;
No foundation base required;
No pollution for the environmental protection;
Applications of Shot Blasting Machine:
Characteristics of Carousel-Hook Shot Blasting Machine:
1. High efficient of Shot wheel Turbines
Compact shell structure, longer lifespan of blades, lower maintenance;
Upgraded wearing-resistance with low working noise & vibration;
High-speed blasting capacity with more recycle abrasive using;
Optimal blasting angle, velocity and energy-saving;
"X" across alignment of shot wheel turbines;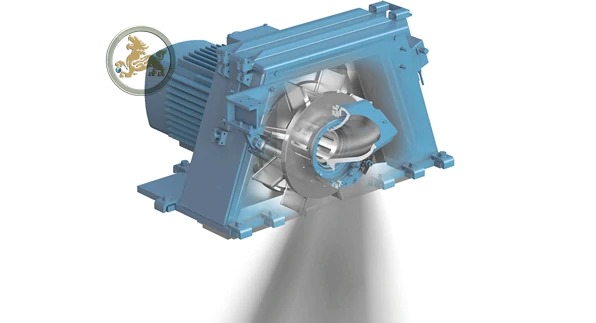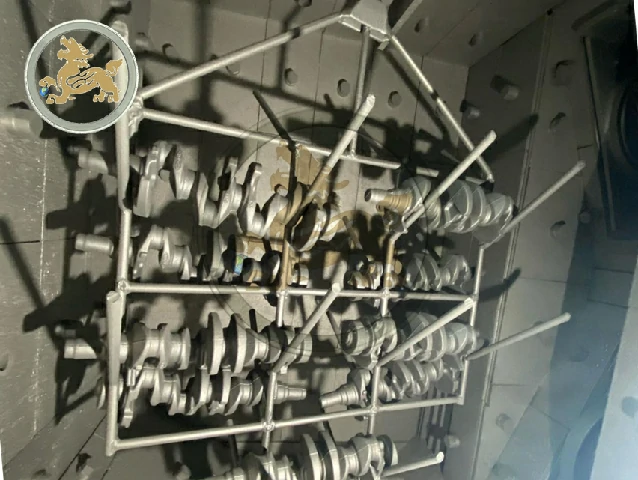 Shot blasting room design with CAD (Computer Aided Design) reach of best blasting angle and distance;
Blasting room made of strong profiles and 10mm plates;
The direct-blasting hot area use of upgraded wearing-resistance casting steel;
Else area with 65 manganess-steel for extra protection;
The door and hooks pass use rubber bands for sealing;
The main doors can automatical open / close pneumatically;
3. Carousel continuous Hangers system:
The continuous overhead conveyor with hooks;
Constant suspended chain speed by variable controll;
Integrated with exit paiting or coating line;
The monorail chain conveyor's speed accords of the surface standard and pre- or post- of line exit;
Specially use for the small, medium size and complicate shape;
The hooks self-rotate 360 degree inside;
The lifting capacity can reach of 10,000kgs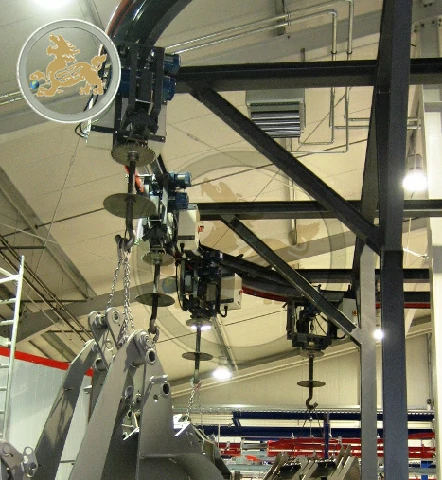 Technical of Carousel hanger shot blasting machine
| Model | CSH-1270 | CSH-1610 | CSH-1812 |
| --- | --- | --- | --- |
| | | | |
| | | | |
| | | | |
4. Abrasive Recycle & Purify system:
Abrasive collect and transport to elevator via screw conveyor;
The elevator lifts the abrasive to the separator;

Bucket made of foundry casting;
Tension device prevents belt slide;

Separator adopts DISA & Pangborn technology;

3-class of separating abrasive;
Efficient reach of 99.5%

Abrasive hopper for abrasive accumulate;
Electro-Magnetic valve control of abrasive flow;
5. Dust Collecting system:
Cartridge type of dust collector;
The efficient reach of 99.9%;
Very easy of replacing of cartridge filters;
Silencer to minimize of noise;
Maintenance platform;
6. Electrical Control system:
Safety interlock for operation;
IP65 protection for control cabinet;
Air conditioning;
230V/3ph/60Hz or 380V/3ph/50Hz cycle electrics
PLC / HMI (touch screen control)
Abrasive level indicator
Automatic Replenisher
Loader and/or Take away conveyor
Pneumatic unload flip gates
Relate shot blasting machines:
Feel free to contact us for more details