Shot blasting machine is using in almost all industries that use metal. It is a necessary process for using steel grit and steel shot to remove surface stains, rust, and verify the product surface's integrity. Compared to other surface treatment technologies, it is faster and more effective and preferred, because of its WPC (Metal surface cleaning ) treatment ability and environmental friendliness. Usually, this blasting method is also used for concrete.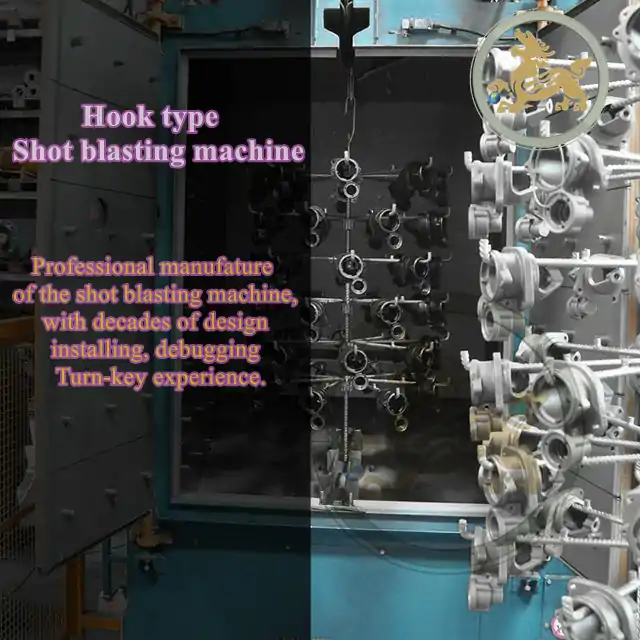 Shot blasting machine uses of centrifugal rotating turbine blades, throwing high-speed (about 70-90 m/s) steel media (steel, copper, aluminum or other materials of high-speed beads as blasting media), projected onto the surface at a certain angle. To achieve of deburr, de-sand, clean or strengthen the surface of the casting, or remove rust, paint or other coatings, etc.;
The shot blasting task determines the choice of abrasive media. In most cases is metallic materials.
The Sandblasting media is pneumatically accelerated by compressed air (instead of a centrifugal turbine). The users can control the direction of the blast through a nozzle.
For special applications, an abrasive media-water mixture, is a wet blasting machine.
The sandblasting's efficiency is decreases and costs increase. In most cases, consume any type of dry or free-flowing abrasive media.

Function
 Shot blasting is mainly used to remove burrs, diaphragms and rust on the surface of steel products. Especially in large quantities during the metal production process. It will affect the integrity and appearance of the object part. Which can roughness a surface profile that increases the adhesion of the coating, and achieve the purpose of strengthening the workpiece. 
  It is also possible to fully open the capillary pores on the surface of the concrete, allowing the sealant or binder to fully penetrate the concrete, exposing the concrete defects in advance.
Application areas and machinery
 Surface cleaning
Shot blasting equipment is initially used in the foundry industry to remove sticky sand, oxide scale from the surface of steel and iron castings. This is also an indispensable preparation process before the quality inspection of the casting.
Workpiece strengthening
According to modern metal strength theory, increasing the dislocation stress inside the metal is the main direction to improve the strength of the metal.

Shot media abrasive
Stainless shot steel
Chilled cast iron
Casting shot ball
Glass beads
Ceramic balls
Aluminum shot
Mixed corundum
Wire cut etc.
What is the difference between shot blasting machine and shot peening machine?
Shot blasting machine is primarily a surface finishing process. To modify the surface of parts to smooth rough surfaces, reshape surfaces, or remove surface contaminants. That is typically used to prepare the surface for subsequent operations (such as painting, coating, etc.) to improve adhesion and smoothness.
The biggest difference between shot peening machines is "peening", which is improve the material properties of the surface to increasing the compressive stress.