Introduction of Crawler (Tumble) Shot Blasting Machine
Crawler (Tumble)-type shot blasting machine uses a centrifugal high-speed rotating impeller to throw abrasives to continuously rotated workpieces, with large projection angle, high efficiency, and no dead corners;
The wear-resistant rubber track belt reduces the collision and damage to the workpiece and reduces the noise during working.
The Crawler (Tumble)-type shot blasting machine has a large shot blasting ability and good sealing, which greatly improves the cleaning effect, production efficiency and dust removal effect.
The use of rolled Mn13 protective shields in the shot blasting room can reduce maintenance costs by about 60-70%.
Through shot blasting and strengthening, not only can the rust, oxide scale, and sand casting on the surface of the workpiece be removed, but also the internal stress of the workpiece can be reduced and the fatigue strength of the workpiece can be improved.
Using a pulse cartridge filter, this standard greatly improves the operator's working environment.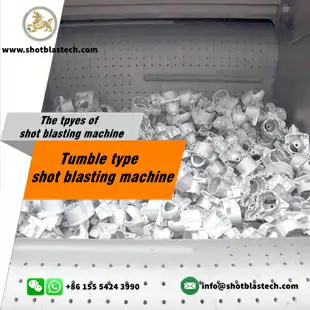 Application of crawler (Tumble) shot blasting machinery:
Suitable for cleaning, rust removal, descaling and surface strengthening of castings and forgings, bearing, forgings, stamping parts, gears, springs (shot-peening) in various industries;
Note: The crawler (Tumblast shot blasting machine) rubber belt shot blasting machines are not allowed to clean high temperature or burr and flashing parts, otherwise it will damage the rubber belt.
Automatic feeding crawler (Tumble) shot blasting machines:
The automatic crawler (Tumble) shot blasting machine is equipped with a pneumatic door, an automatic feeding hopper, an unloading vibration conveying trough, etc.;
Equipped with a PLC automatic control system, the whole process of cleaning can be controlled.
Convenient loading and unloading, saving workers' labor and improving efficiency.
Advantages of crawler (Tumble) shot blasting machines:
Crawler (Tumble) shot blast machine is designed and developed in combination with advanced technology, with good cleaning effect, compact structure, low production cost and simple maintenance.
The rubber track runs smoothly, reduces the collision and damage of the workpiece, has low noise, and can be adapted to various working conditions.
The filter cartridge dust collector keeps the dust concentration lower than the international standard and improves the working environment.
Automatic feeding and unloading, reducing labor and improving efficiency.